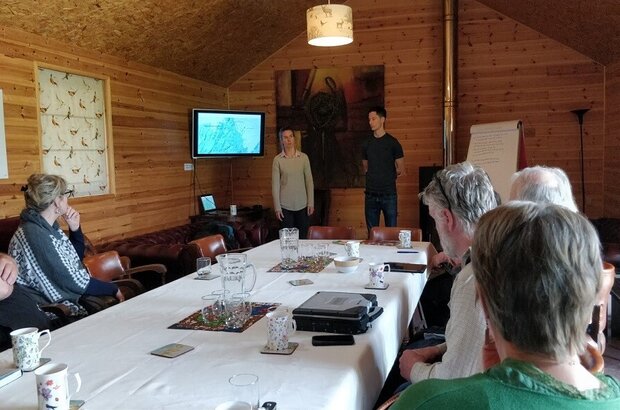 We're pleased to announce a fourth call for tests and trials to help us test and further develop our environmental land management schemes. 
Through tests and trials, farmers and land managers across different sectors, regions and land types provide and discuss evidence through progress reports, regular meetings with Test and Trial Officers and Thematic Working Groups.
In this post, I'll share what we plan to explore, when you can apply and details of an upcoming webinar.
What we're interested in
We want to answer several questions as part of this new call, helping to fill gaps in our evidence and address emerging priorities.  
Areas we'll explore include: 
the ways in which advice supports farmers and how they identify quality advice

 

how schemes can evolve to make sure they deliver our targets

 

how farmers could support each other and share knowledge to deliver more complex actions

 

how we might foster collaboration, extend existing networks and encourage farmers to share information

 

ways to encourage farmers to monitor their journey and how they deliver activities and outcomes, helping farmers feel confident that they are complying with regulations.

 
 The complete list of questions can be found, with the guidance, on GOV.UK. 
Tests and trials so far
We have contracted over 130 tests and trials since 2018, working with over 7,000 farmers representing a wide range of geographies and sectors. 
Findings from these tests and trials have already helped shape our new environmental land management schemes.  
If you would like to read about the findings from tests and trials so far, you can read our evidence reports. We've also blogged and shared films about our tests and trials work. 
Dates to note
The window to apply opened on Friday 20 October 2023, we've extended to 19 January 2023
Further information on the fourth round of tests and trials, including the policy questions and application documents, can be found on GOV.UK.
We're also hosting a further webinar to provide further information on Thursday 7 December at 2pm.
If you would like to attend, please register for the event. Spaces are limited, so register as early as you can.
We held a webinar on 7th November 2023 outlining the details of the call. You can watch this here, just use the passcode @hrC12&x to access it.
If you have any queries about getting involved in our tests and trials, email: elmtestingandtrials@defra.gov.uk.