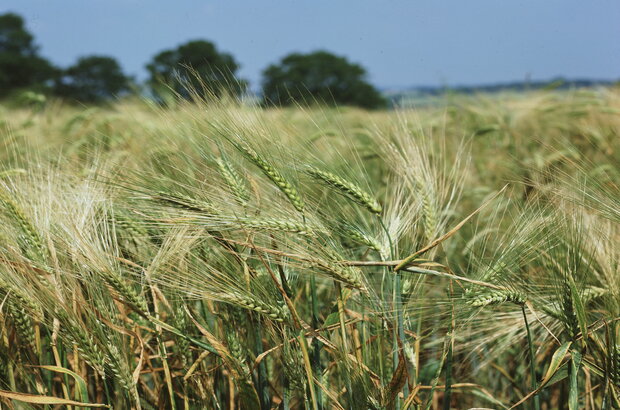 Today at the Cereals 2021 agricultural show,  our Secretary of State, George Eustice, announced further information about the Sustainable Farming Incentive scheme, which farmers will be able  to sign up to from next spring.
We have published new information on GOV.UK about the early rollout of this scheme including what farmers will be able to get rewarded for if they sign up.
In this post I'll provide a summary of what will be on offer through the scheme and what we're doing ahead of opening the scheme up to farmers next year.
Purpose of the scheme 
As we said in the Agricultural Transition Plan, the Sustainable Farming Incentive is a new environmental land management scheme that will reward farmers for adopting more sustainable farming approaches.
The scheme will be relevant to all types of farms as we want to bring more land and more farms into environmental management than ever before,  building on the already excellent practices on many farms. For those already in schemes, we want the Sustainable Farming Incentive to provide additional ways for farmers to be rewarded.
The scheme is being designed to attract a wide range of farmers so we can achieve large scale benefits for the climate, environment, and animal health and welfare, as early as possible in the transition period.
We have developed the scheme so far through a process of co-design and will be doing more of this in the coming months.
We have already begun to learn about different aspects of the scheme through Tests and Trials, and will be learning even more through the Sustainable Farming Incentive pilot. We would like to thank all those who are taking part for their time and commitment to helping design a scheme that works.
What farmers can get rewarded for through the early rollout
When we refer to the "early rollout" of the scheme we mean that a version of the scheme will open in 2022. The scheme will then grow and adapt over time to involve a larger number of standards and farmers by 2024/25.
From spring 2022 the scheme will be open to farmers who are eligible for the Basic Payment Scheme. We will offer an initial set of standards, which are packages of actions.
The standards on offer will be two Soils Standards, a Moorland and Rough Grazing Standard, and an Annual Health and Welfare Review - the first component of the Animal Health and Welfare Pathway.
We think it makes sense to start with these standards because:
they are widely applicable so will provide opportunities for a range of farmers to be rewarded
the activities we will pay for are mostly additional to activities farmers can already get paid for through existing schemes
healthy soils underpin a range of environmental benefits, as well as production
the Annual Health and Welfare Review will give us a better understanding of the health and welfare of the national herd/flock and help to target future support in the right way
A summary of each standard and estimated payment rates is below and detailed standards can be found in the Agricultural Transition Plan. We recently blogged about the development of these standards.
Arable and Horticultural Soils Standard and Improved Grassland Soils Standard
These standards will:
reward farmers for management practices that improve soil health by improving soil structure, soil organic matter, and soil biology
comprise  3 levels of ambition
offer payments of between £26 and £70 per hectare (estimated). These payment rates are annual.
Moorland and Rough Grazing Standard
This standard will:
reward farmers for assessing the range of habitats and features present on their moorlands and identify pressures on these assets and the risks posed by wildfires.
consist of a single (introductory) level of ambition
The payment rate for this standard is currently under development – we will confirm by November.
Annual Health and Welfare Review
This will:
fund a yearly visit from a vet or vet-led team, diagnostic testing and bespoke advice leading to actions to improve livestock health and welfare
be available for all commercial cattle, pig and sheep keepers who are eligible for Basic Payments
Payments will range from approximately £269-£775, varying by species.
What we'll do next 
We plan to open up applications in spring and make the first payments before the end of 2022.
Before we open the scheme, we will be further developing elements of it including the length and flexibility of agreements, and the approach to compliance and monitoring. We will also be working out how the scheme should expand, and which standards should be introduced when. To decide this, we will be considering the outcomes we want to achieve through the scheme, their fit with legacy schemes, and will be working with farmers and stakeholders to ensure that the schemes are workable in different farming systems. Look out for more information on that in future blog posts.
It takes time to develop the evidence to create new standards and payment rates, and to test them with farmers and other experts. Over the summer, we'll be refining the indicative payment rates and standards that we have published today, ready to publish final versions of this initial set of standards by November this year.  We will be talking to farmers and stakeholders about the detail of the standards, researching how many farmers are likely to sign up, and assessing whether that level is enough to meet our ambition for the scheme to achieve a big impact early on in the agricultural transition period.
We will be drawing on learning from Tests and Trials, the Sustainable Farming Incentive pilot, and the early rollout of the scheme to shape the longer-term scheme.
We're excited to be rolling this scheme out and we hope that farmers find the scheme a straightforward way to get rewarded for sustainable farming  approaches.
Get involved
As I mentioned, we are developing the Sustainable Farming Incentive through a process of co-design. This means that we are developing the processes and systems directly with the farmers who will use them.
If you are interested in taking part in future co-design sessions on future farming you can email ffcpcodesign@defra.gov.uk.
There is much about the Sustainable Farming Incentive that is still up for shaping and we would be delighted to hear from you.