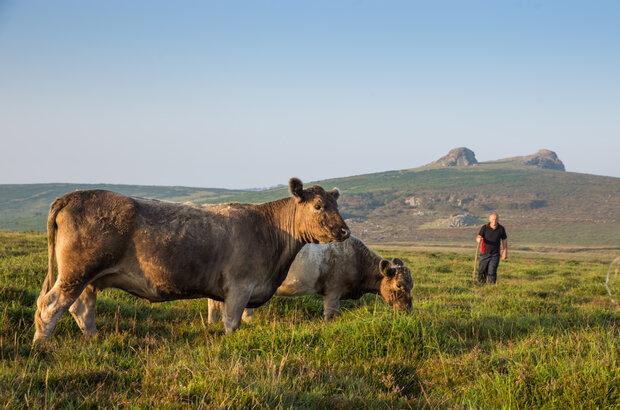 You might remember that in the Agricultural Transition Plan, we mentioned that we would introduce a Farming in Protected Landscapes programme.
We're preparing to release more information about that programme in the coming weeks, but before then, I wanted to share a few reasons why protected landscapes are so important.
National Parks and Areas of Outstanding Natural Beauty (AONB) are special and unique. Together they make up some of our most beautiful and iconic protected landscapes.
In England, there are 10 National Parks and 34 AONB. Together, they cover nearly 25% of land in England. Natural England's map shows their size and location across England.
These places, designated in statute for their natural beauty, are also home to some of our most important species.
These areas make up an important part of the government's commitment to protect 30% of land by 2030 so that they continue to be havens for nature and places that everyone can visit and enjoy.
Reducing carbon emissions
National Parks and AONB play an important role in the current fight against the rise of global carbon emissions. These places are home to some of our most important species, around 60% of England's remaining deep peat, and over 50% of our Site of Special Scientific Interest (SSSIs), making them vital to nature recovery and nature-based solutions to climate change.
A huge 119 megatons of carbon is stored within the peat soils of the English National Parks which is the equivalent of the annual emissions of England.
The rural economy
Protected landscapes do much to support local rural communities, helping to support jobs and investment. National Parks attract 94 million visitors per year, directly supporting 75,000 jobs whilst combined, the National Parks and AONBs attract over 260 million visitors a year.
Biodiversity
Protected landscapes range from lowland landscapes, such as the Cotswolds and the Norfolk Coast, to uplands such as the North Pennines and the Lake District.
By having such a wide geographical range, they also contain a wide range of species that are important for nature and nature recovery. Within the National Parks of England are contained 41% of upland hay meadows and 80% of upland chalk grassland. These places are also home to an array of wildlife from red squirrels to the Bilberry bumblebee.
Wellbeing
Protected Landscapes have an important role to play in our health and wellbeing. Around 64% of England's population lives within 15 miles of a National Park or AONB and they're great places to walk and cycle.
Stay up-to-date
As I mentioned, we'll be sharing our plans to support farming in protected landscapes in the coming weeks, so do subscribe to the blog for further updates.
The Landscape Review sets out a compelling vision for more beautiful, more biodiverse and more accessible National Parks and Areas of Outstanding Natural Beauty, which the government will respond to soon.
Finally, don't forget to sign up to Defra's e-alerts if you haven't already. 
Gallery