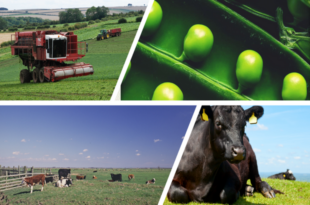 We're inviting farmers, growers, foresters, businesses and researchers to apply for a share of £12.5 million to focus on the research and development of sustainable farm-based proteins.
In this post, I'll share a little bit more about our objectives, the projects we'll fund and include links to the guidance you'll need to apply.
Our objectives
We want to help the sector meet the challenge of transitioning to more sustainable production of farm-based proteins.
This might be achieved by mitigating emissions or reducing the environmental impact of proteins to reduce biodiversity loss and ease pressure on land and water.
We will fund a whole range of projects – in feasibility and industrial research categories - from traditional livestock production and plant production to novel animal feeds/supplements, agroforestry and bioeconomy.
Projects could include development of new protein crops like legumes or brassicas, as well as enhancing traditional livestock production. 
Projects can be led by both businesses and research organisations, but all projects must be collaborative and include at least one business in the team. We're holding a consortia-building event in August. I'll share the details at the end of this post. 
As before, all projects within the Farming Innovation Programme must benefit farmers, growers or foresters based in England. 
What to expect when you apply
Applications will open on 25 July.
You'll be asked to explain the challenge you've identified; how your innovation can solve the challenge; and how you will maximise impact across the sector. 
The application window closes on 21 September and projects are expected to start from 1 April 2023. 
In this competition, we will not fund projects that take protein production away from the farm, for example: cultured meats. 
We won't fund 'post farm-gate' projects involving downstream processing or manufacturing. Wild-caught fisheries and aquaculture for human consumption are also not in scope. 
Learn more
How to apply for Feasibility projects
How to apply for Industrial research projects.
For detailed instructions on how to apply, Innovate UK KTN are hosting an applicant briefing webinar from 10:00 am on 3 August. This will be followed by a consortia-building workshop, where you can identify potential collaborators for your project, from 12:45 pm on the same day.
You can register to attend the applicant briefing webinar on the Innovate UK KTN virtual conference website.
Visit the UKRI Farming Innovation website for more information.