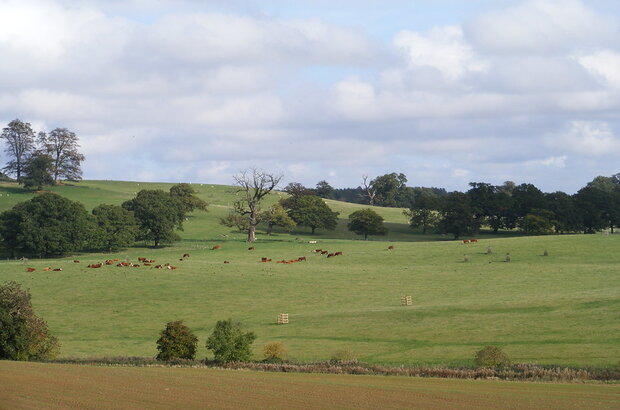 Last month, we shared the funding opportunities available through the Farming Innovation Programme in 2022.
Funding from across the Farming Innovation Programme will help England's farmers and growers to use new, innovative methods and technologies to become more productive, environmentally sustainable, and more resilient to the global food security challenges of the future. 
From today, Wednesday 30 March, you can apply for a share of £20.5 million funding in 2 new competitions in the Farming Innovation Programme in partnership with UK Research and Innovation (UKRI). 
They are:
Here's some more information about these competitions and our priority areas for innovation.
The Farming Futures Research and Development Fund
This competition focuses on further delivering food security through productive, sustainable 'climate smart farming'. 
We will fund large-scale, ambitious, and transformative projects that focus on mitigating greenhouse gas emissions or help the sector adapt to climate change.
£12.5 million is available in this competition. Businesses or researchers can lead these projects, but projects must be collaborative and must benefit farmers and growers based in England. Projects will be valued between £3 million and £6 million and will last up to 4 years.
To apply, you will first need to submit a short Expression of Interest, setting out your idea. You can do this from today, Wednesday 30 March. The applications window will close on 18 May. 
Sign up to the Farming Futures R&D Fund applicant briefing and consortia-building event on 7 April to find out how you can apply and identify potential collaborators.
The table below sets out the areas that would be in scope of this competition. You should consider this when submitting your Expression of Interest.
Farming Futures Research and Development Fund: Climate Smart Farming
Climate-change Adaptation and Resilience.

Many of the risks and impacts that we are seeing today will change in intensity and nature in the future. The Farming Innovation Programme can help farmers adapt to the current situation and to prepare for the future. Areas where innovation can help include:

Data

For example: using sensors to monitor soil properties, pests and pathogens, or crop yields. Resulting data could help inform land management decisions, choice of crop varieties or to improve treatments to maximise yields.

Breeding

Using modern breeding techniques to develop new crops or breed more resilient livestock that are better equipped to cope with extreme weather events such as drought, extreme temperatures, or flooding.

Regenerative Farming

Productive regenerative farming techniques could help deliver a profitable, environmentally sustainable sector that improves soil health, water quality and biodiversity.

New Opportunities

Warmer temperatures, changing rainfall patterns, or higher levels of atmospheric carbon dioxide may, in some cases, provide some farmers with the opportunity to bring in new crops or new livestock breeds, helping them to diversify production and become more profitable in the long term.

Reducing Greenhouse Gas Emissions

Within a climate smart farming system, we need to implement new innovative farming technologies and techniques that can dramatically reduce greenhouse gas emissions. Areas for innovation could include, for example:

Livestock Production

For example: reducing livestock emissions whilst maintaining a thriving sector by developing solutions such as methane-inhibiting feed additives, novel housing systems or new livestock breeds that produce less methane.

Crop Production

Innovation could assist with nutrient management, for example in how organic and mineral fertilisers are formulated, produced and applied. Solutions could include decision support systems, fertiliser placement technologies, new fertiliser media derived from recovered nutrients, and new chemical additives or coatings to reduce nutrient losses.

Energy Use

Solutions might include integration of solar photovoltaics or increasing efficiency in heat and light management in controlled environment systems. It could include improved materials that increase efficiency of glasshouses, or new energy efficient machinery for in-field operations. 

Land Management

By transitioning to productive paludicultural (wet agriculture) systems, we could reduce and reverse carbon emissions from our drained peatlands. Agroforestry and biomass production could help to sequester carbon, increase productivity and enhance biodiversity and soil health.
Large Research and Development Partnership projects
We are also opening the fourth competition in the Industry-led Research and Development Partnership Fund, which launched in October last year. 
£8 million is available for 'Large Research and Development Partnership projects' that will drive forward large-scale research, development and demonstration of solutions to substantially improve the productivity and environmental sustainability of England's agricultural and horticultural sectors.
Projects must have a significant focus on demonstration and knowledge exchange to enable the commercialisation and adoption of new solutions.
Businesses can lead these projects, but researchers can collaborate. Projects will last up to 4 years and be valued between £3 million - £5 million, with businesses expected to provide some match funding.
We are being less selective in the scope of this fund, but projects must deliver benefits to farmers and growers based in England. 
The application window opens today and will close 29 June 2022. 
Dates for your diary
On Tuesday 5 April, UKRI will host an online briefing event for applicants. Sign up to attend the briefing.
On Wednesday 20 April, UKRI will host a consortia-building event. This event is for businesses, research organisations, farmers, growers and foresters who are looking for partners to apply to the Large R&D Partnership competition. Sign up to attend the consortia-building event.
Finally, if you have any questions about these new competitions, comment below.