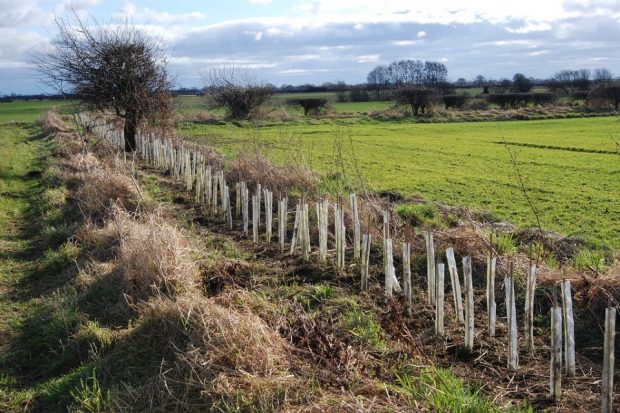 At NFU21, The Secretary of State for Environment, Food and Rural Affairs, George Eustice, spoke about the Sustainable Farming Incentive.
The Sustainable Farming Incentive is the first in a package of environmental land management schemes, which will provide a straightforward way for farmers to get paid for producing public goods. These include cleaner water, cleaner air and carbon reduction. 
Through the Sustainable Farming Incentive, farmers will be paid for environmentally sustainable actions – ones that are simple to do and that don't require previous experience in agri-environment schemes. For example, we might pay farmers to manage and plant hedgerows to provide year-round food, shelter and breeding cover for birds and insects. 
We'll start to pilot the Sustainable Farming Incentive this year with an initial group of several hundred farmers. Then, in March 2022, we will start to roll out the scheme to recipients of the Basic Payment Scheme (BPS). 
As we roll out the Sustainable Farming Incentive, we will make changes and improvements as we go – learning both from the piloting and the scheme roll-out itself.
How 
the Sustainable Farming Incentive
 pilot will work
We'll launch the Sustainable Farming Incentive pilot in October 2021. Next month, you'll be able to express an interest in taking part. The launch document can be viewed on GOV.UK. 
The Sustainable Farming Incentive pilot will build on what we're learning through the tests and trials, which started in 2018. 
Tests and trials focus on trying out individual parts of the future scheme, like land management plans or different payment methods – whereas the pilot will test a working version of the scheme from start to finish. Think of a manufacturer designing a new car – they might test things like the brakes and gearbox separately (tests and trials), before combining them into a driveable car for road testing (piloting). 
We want the Sustainable Farming Incentive to be straightforward enough that a farmer can make an application and start their agreement just by using guidance on GOV.UK. An important point of piloting will be to test whether this is true in practice, and we will adjust the scheme design based on what we learn. 
Who's eligible for the pilot
We'd like to involve several hundred farmers in the first phase of the Sustainable Farming Incentive pilot, from a range of farm types from across England. 
For the first phase of piloting, a farmer is only eligible if they:  
are a 

recipient

 of the Basic Payments Scheme, registered on the 

Rural Payments Agency

 

system

 

enter land parcels (fields) into the pilot that do not have an existing 

agri

-environment agreement on them

 

have management control of the land for the duration 

of the pilot. They must either own the land with management control or have a tenancy of enough length to implement their pilot agreement (including landlord's permission if required)

 

enter land parcels that are in England 

 

enter 

land parcels that are not common land 

 
Later, we're planning to extend eligibility to include farmers who aren't eligible for, or don't claim, BPS. We also might add specific farm types not eligible for the first phase, like farms on common land. 
How to take part
In March 2021, we'll invite farmers to submit expressions of interest in taking part in the pilot. You'll just need to complete a short, simple online form to do this. 
Once we have enough expressions of interest, we will invite farmers from a mix of farms and locations to make a pilot application. If we're oversubscribed, we'll select farmers at random instead.  
People who have been invited to apply will then need to prepare their full application. If they're eligible, they will then enter into a pilot agreement. 
The first agreements will go live in October 2021.  
We'll publish more information about the Sustainable Farming Incentive pilot next month (March 2021).
Then, by June, we'll publish information about how the scheme itself will work, including what farmers can get paid for and how much.  
We will talk about these things here, so don't forget to subscribe to this blog if you haven't already, and sign up to Defra's e-alerts too.  You can also read the speech given by George Eustice at NFU21.