https://defrafarming.blog.gov.uk/episode-10-podcast-transcript/
Episode 10: Podcast Transcript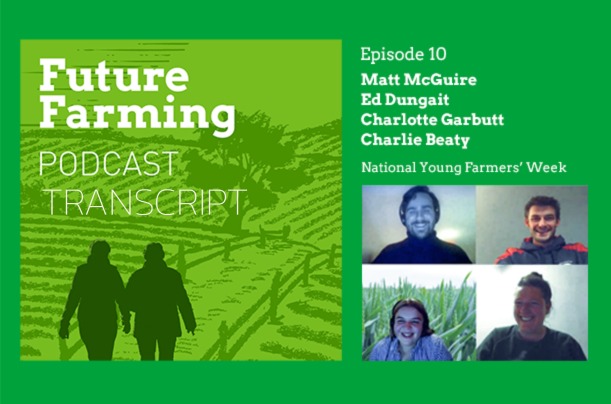 Matt (host)
Hi, welcome to this episode of the Feature Farming Podcast. My name is Matt McGuire and I'm part of the policy team here at Defra working on the Future Farming and Countryside Programme. We have loads of really fascinating conversations with farmers so we thought we'd share some of the conversations we're having. Today we have a really special edition that we're very excited about for Young Farmers' Week. We have 3 farmers joining us, so we've got Charlotte Garbutt, Charlie Beaty and Ed Dungait, who've very kindly agreed to spend some of their evening talking to me and to be our guest on the podcast. So welcome. Would you like to introduce yourselves and tell us a bit about how you farm or how you work in farming?
Ed
Hi, I'm Ed Dungait. I'm an arable tenant farmer on our family farm in Northumberland. When I was younger, I did fairly well at school and loads of people tried to persuade me out of farming. They said I should go and get a professional career. So I thought about being a vet or an engineer and then realised, why am I listening to this? Farming is full of technology. It's an innovative industry. There's so much research going on, particularly now and for the future, and it's what I like doing, so that's what I decided. I went to Harper Adams, doing a degree in agriculture and crop management, and now I've come back to the family farm, where I, pretty much all arable, with a couple of bits of diversification, mainly farming arable. I'm looking forward to the future.
Matt
Over to Charlie.
Charlie
Hi, my name's Charlie [Beaty]. I am a mixed beef-sheep and arable farmer from Warwickshire. We tenant just shy of 300 hectares and then we contract farm around another 350. I work alongside my dad and my uncles. It's a family farm. The tenancy has been with the family since the late 1950s and I came home from university. I was also at Harper Adams. I came home 3 and a half years ago now after travelling and my degree.
Matt
Charlotte.
Charlotte
Hi, my name's Charlotte Garbutt. I work for an agri-chemical company where I'm in an agronomy and sales role. I grew up on a family farm in East Yorkshire, and I'm one of 5 siblings. I have 3 brothers and we're a traditional family. So the brothers are on the farm and I've made my own way in life, so hence my kind of route into a role within agriculture. But my passion for farming is still there, still strong. And I am just in the process of establishing a small herd of pedigree limousins. I say "in the process of establishing" because it almost seems you have about 3 runs of bad luck and then a bit of good luck. So it's all fun and games at the moment.
Ed
Can we add one line about what National Young Farmers' Week is?
Matt
Yes, of course you can. Do you want to do that now?
Ed
Yes. Young farmers clubs offer anyone aged 10 to 28 with any sort of interest in agriculture, related industries, or generally just meeting people and having a good time, we're the National Federation of Young Farmers' Clubs for England and Wales, and this week is National Young Farmers' Week, where we're celebrating all things YFC and all things homegrown. We have a big stress this week on locally grown food, local produce and keeping healthy. We're using the hashtag Homegrown to look out for this week on your social media. So we're delighted to be talking all things food and farming here tonight.
Matt
Brilliant. Could each of you walk me through a little bit about how you entered the industry as a way for us to explore the different ways that a young farmer might get into the industry. Tell me a little bit about your own personal story and how you approach your career.
Charlie
Yeah. So when I was growing up, I actually always wanted to be a vet. So yeah, I love the livestock side, because that was really what I could get involved with mostly when I was younger. I wasn't really involved with machinery or anything. I didn't try hard enough in school, so that quickly ruled out veterinary for me and instead I went off to Harper Adams to do a degree in agriculture. I didn't specialise, I just went down the straight agriculture route rather than specialising in animal science or crop science or anything like that, because being from a mixed farm, I very much got the interest in the overview, in everything. I really enjoy how all of our enterprises mix together and work alongside each other rather than loving one in particular.
So yeah, I went to Harper Adams, did my placement year, and then I went out travelling in Australia and New Zealand, and I came home mid 2019 and even when I came home then I wasn't really sure that I wanted to be on the farm full time. I looked at other roles, but the longer I spent at home, the more I hated the idea of actually leaving the farm and going and getting an office job or a job away from the farm.
Matt
Okay. Charlotte.
Charlotte
So obviously growing up on the farm, we were involved in all aspects of farming from feeding the pet lambs right through to sitting on the tractor and working the land. So I'd always had that interest early on. I was obviously encouraged to go and explore a career away from the farm by my family. And I actually did look at doing a business degree at university and going completely away from farming and I actually went to Harper Adams just for an interview, I thought, well, I'm going to go to Newcastle and I'm going to do business management. I thought, well, I'll go to the interview anyway and within 5 minutes of being there I just actually fell in love with it, and I thought, you know, this is home, you know, agriculture is what I was born to do. It's what I'm really keen and passionate about so I did my degree in agribusiness and then from the farm side, you know, we are a mixed farm of arable beef and sheep, so I had a real keen interest in both crops and livestock. And my interest in the crop side, I did a placement at KWS, they're a large seed breeder, and I really enjoyed that and decided actually going down an agronomy-type route would be something I'd be interested in and then just have an extremely expensive hobby on the side owning a few cows [laughs].
Matt
And Ed.
Ed
Yeah, so when I was about 17 and finally decided I was going into farming, I thought I'd do it properly and I'd go and do a degree in agriculture. So I looked around many universities and like the other two, I chose Harper Adams. I should mention, other universities are available for agriculture. I do know some great people who went to Cirencester, Reading, Nottingham, Newcastle, and other places.
I thoroughly enjoyed the course there. I specialised in crop management. Some of the modules I found really interesting were crop genetics improvement, advanced agronomy. Most of the rest of my class went on to become agronomists, which I thought about doing. Some of them have even gone into research. I was really interested in it, but I felt I was past the studious point of my life and I was ready to actually work at home. So then, yeah, when I finished I was quite lucky, then I just walked into a job for my parents at home, so I do feel quite fortunate in that way. Yeah, that's how I've ended up here.
Matt
So am I right in thinking that a lot of the themes are across the borders of family farms, you've gone away to get some exposure to theory, exposure to other things through academic education, and then finding opportunities to get back into the family business, I guess. Are there other routes from, sort of thinking about your network or your friends, that people have used to get into farming, particularly think about people who just don't have that farming background, don't have those connections and stuff like that. What kind of route or support is available for people like that?
Charlotte
I would say I've got quite a few friends who have nothing to do with agriculture. Absolutely nothing. And their way in was through Young Farmers, and they joined a local young farmers' club. They saw they were advertising a new members night, came along. I've got a friend in particular who springs to mind instantly, who had no involvement in agriculture and actually became the chairman of the club and, you know, started doing things at a county level as well. And from that actually was able to get a job within agriculture because they made really strong contacts and connections through the Young Farmers' network. So it's amazing to see how being part of these kind of groups of people can impact your life.
Charlie
I was actually having a conversation about this last night because a lot of our members aren't farmers. I'm very fortunate I've grown up on a farm. I've had a direct route in. I quite often get asked by younger members if they can have a bit of work experience. They want to get into farming, what's the best way to do it? And I find that a really hard question to answer.
You know, if we're TB testing, sorting, anything like that, there's never really a right time to have a youngster with no experience around. When we're on the machinery and we're doing things with the tractors, we're always busy. So again, there's never really a right time. The only time I ever really feel like I can confidently and comfortably offer someone work experience is at lambing time.
Always in the back of my mind is that agriculture has the highest fatality rates of any industry, and it's something that we have to be really aware of. For them to first get that experience, the thing I'd say is go and find an ag college, find a good one, have a look around, get on their courses, you know, get your discount courses under your belt, and have a go and try and learn on on the college farm or something like that, because I don't know that there is a way for them to get in otherwise. I think it's a real barrier.
Charlotte
It's a good point though, Charlie, because I remember when I was at school, you know, careers advisers did not encourage you down the route of agriculture. They would encourage you to go down a different path, because I think the value of agriculture as an industry for people to make a career out of when you're at that educational level, particularly at secondary school, is not advocated enough and not valued enough.
I think it really starts from that point, and actually, how do those individuals know where to go next? How do they know where the ag colleges are? Yeah, there needs to be guidance from an educational point of view, doesn't there?
Charlie
Yeah, absolutely. And you know, maybe there needs to be, I think, I could go on about it all day, but I think there definitely needs to be more of an understanding taught in schools. It terrifies me how little there is and I know we'll all be on the same page here, I'm really preaching to the choir, but there is so little on agriculture and food production in schools, it's almost like food is not a necessity for our survival. It blows my mind.
But I think if there was more of an understanding and more of that taught at school, then kids would be able to come out of school with a bit more of a wider understanding about the industry. And then, you know, maybe there'd be a little less reluctance to have youngsters on to gain that work experience. I don't know if it's the answer, but I think it's definitely a step in the right direction.
Ed
I totally agree. At my primary school and middle school, everyone had a pretty good understanding of farming. I went to high school in the middle of Newcastle and people didn't have a clue how their food was produced. I got asked lately if I would do a Zoom chat with a group of teenagers in a school in Durham. I think it was the year 10s, just anyone who was keen for a career in agriculture come along, there was about 12 of them joined, and I did this chat over Zoom, and they said it was just fantastic to hear in school about career opportunities in agriculture because it's not really, they don't get that at the minute.
Charlotte
It starts with the education. It really does. You know, young people need to know what opportunities are out there. And I think there's a huge part that education plays in that to try and encourage people into, not just farming, you know, there are so many roles within agriculture. Farming is such a small part of it. You know, if you added up all the people that are involved in being a farmer versus all the other roles that make up agriculture, farming is such a small part of that in terms of number of people, and there's just so many opportunities within agriculture, it's really, it's such an exciting industry.
Ed
I totally agree, Charlotte, and people think a career in agriculture is just to work on a farm, and it's not at all. Basically anyone who's interested in science, there's a job for them in the industry, in research or somewhere in food production or farming, but also like marketing and business development, all sorts of areas that you wouldn't think a farmer would do, but they're related to our industry and they should attract people.
After an NFU [National Farmers' Union] next generation event in Newcastle this year I got chatting to 3 of the NFU student graduates who all had a huge passion for food production and global food production and food security, and preventing hunger, and none of them came from an agricultural background at all, they'd come from the city, but had an interest in this global topic of food production, and that had brought them into a job at the NFU and farming.
As Charlie was pointing out, I find it very hard to employ someone totally new and inexperienced on our farm because we're just arable, there's just me and my dad generally and one extra worker at harvest. We need to employ someone experienced because they're working on their own most of the time. I want to encourage and help teach the next generation so it's really hard, and I think the best option is going to an agricultural college and getting a placement job, because it's often placement jobs that are a good opportunity and a lot of farmers would be more willing to take on, I think, someone on a placement job or an apprenticeship fairly long term throughout the year to help teach them gradually, rather than a full time job, expecting them to take on full duties on the farm.
Matt
It sounds also from your experience, Charlotte, that you can combine different aspects. I don't know if you want to talk about the challenges of potentially doing a job in x sector, so agronomy, and also trying to produce food and be on the field on a daily basis, the challenges there.
Charlotte
Yeah, absolutely. I mean, the challenges are there's lots of people out there who are in positions where either they haven't got the opportunity to farm outright themselves and bring in the bread, or they're in a situation where perhaps they do have a farm and the farm is not big enough and they need a job to help with the balance.
So there's quite a bit of that that's going on really in the industry. From my perspective, I'm obviously so eager to farm that I'm trying to, and my partner obviously, trying to establish that in our own right. And that is a challenge in terms of, yes, we've got the financial backing in terms of our income every month, but that becomes stretched because you're obviously trying to, every decision is like, right, do I buy a cow or do I not? Because, you know, that is quite a chunk of my income and I'm trying to obviously balance my time as well.
So it's trying to do everything right and also being realistic about timeframes and how long this is going to take. You know, I think in the next 2 or 3 years, we'd like to make decisions, particularly financial decisions, about how perhaps we can grow the herd quicker, how we can establish our herd a bit sooner and invest a bit more into genetics, etc. but it's very risky because you are trying to do it off your own back and you don't have that kind of structure around you. So it's kind of, yeah, it is a challenge, but I guess at the same time it's quite exciting because you kind of think, well, every time I save some money I can go buy a cow, and it means more. You know, I've gone to, I've come home with a cow, and like literally every time I've come home with a cow, I could literally burst into tears of happiness because it's like, ah, I've got a cow! But yeah, it's quite challenging, but it's great, it's exciting.
Charlie
I just want to say how much I can empathise with that feeling of, oh my God, I've got a cow!
Ed
I've never really felt that about a new tractor. But okay, yeah.
[Laughter]
Charlotte
You need to get a cow, Ed.
Matt
Everyone needs a cow. Right, okay. Let's carry on. The National Federation of Young Farmers Clubs published findings earlier this year talking about issues of food security and barriers to access in farming, in particular, are some of the biggest challenges facing the sector. What do you think are some of the biggest challenges facing you, your networks, your friends in farming at the moment? How could government do more to support you and to support you to overcome some of those challenges?
Charlie
Personally, one of the biggest challenges to me at the moment is succession. So we're a tenant farm on a very good farm business tenancy, FBT, which we changed from a generational tenancy back in 2006 when my granddad died, and I work alongside my dad and my uncle and whilst it's, well, I was going to say, whilst it's not really something that is affecting us right now, it probably is because it's something that I think about a lot, so it affects me.
Farming is such, whilst it's a business, it's such a personal thing as well. As a farmer, you're so personally invested in every aspect of your business. It's not just the financial side, it's the wellbeing of your livestock, it's the guardianship of the countryside that you are maintaining and tending to, and when so many generations have worked so hard to put so much into it, I can see how succession is such a big issue within the industry because people don't want to let go.
And I understand why, I get why, but as someone that is at the other end of that, I'm still sat here not really sure in what ways the farming business can accommodate me and what steps are put in place for that. So working with my dad and my uncle, how does the transition of the business occur with my uncle getting a fair call out of it and also my dad and my family for the work that I've put in and he's put in, and how does that break down, how does that split up?
It's not something that we're very good at talking about. I don't know where it's going still. So that is, that's a real challenge for me, and that's something that then in turn plays on my mental health, another massive, massive problem in agriculture, not just for youngsters, but for all ages across the board. So yeah, that's probably the biggest issue I face at the moment.
Ed
That's really interesting to hear, Charlie Succession is always a constant issue here because my grandpa farmed till he died. He had 2 sons, my dad and my uncle, and so there's me and also my cousins. A succession plan should have been put in place about 50 years ago. It wasn't, and it was always going to be really hard to sort out. So it didn't get eventually sorted out until 2014, which was lucky for me, really. It's just when I finished university.
But we have split the business successfully and we've made so much progress in the last 7 years, but because it wasn't planned very well, where all our farmland is and where our buildings are, so it still is, it's still an issue that we're dealing with and it really plays on my mental health a lot, but I'm confident that we'll get there in the future. We are getting there every year. As Charlie said, it just weighs on your mind every day.
Generally, the biggest problem we find as a business right now is just like, extreme volatility and everything's much more of a risk just now than it was 5 years ago, the way prices of everything have gone. I'm not saying, we're not suddenly a lot worse off right now, but we're taking much bigger risks all the time with everything that we're doing.
That's the market. I don't have a solution to that at all. And personally, I don't necessarily feel it's the government's job to hugely intervene in markets. That's my personal view. So we've just got to live with it and keep riding the wave really.
Charlie
I think, just going to chip in there, you know, I don't think that succession is necessarily the biggest issue for the farm. I just think it's the biggest thing that plays on my mind personally. Like obviously the volatility of the industry is ridiculous right now and that would definitely be the biggest factor affecting the way that we farm as a business. But yeah, the succession is more the personal thing that I think about and possibly struggle with the most. And I think as well, because it's something that we can control and we're choosing not to almost, that's something I think about a lot.
Matt
One of the things we have put in place this year was the Lump Sum Exit Scheme, which gives people the lump sum who want to leave or retire from the industry. I don't think that is the total solution to succession because obviously that's a personal decision you need to make within your business and your family. But I just thought I'd mention that as well. It's something we're trying to do. But really interesting reflections on some of the more specific challenges there.
Charlotte
Charlie, what you said is absolutely true, that certain things don't have to be at the forefront for everyone. But in terms of succession, you know, and in your situation, it's always there. Volatility comes and goes, fertiliser prices rise and hopefully go back down again at some point. There's lots of volatility, whereas the issue of succession is just constantly there.
And I think it's trying to combat these kind of problems that, as you say, are in our control that are the hardest because we actually have to sit down and talk about them, and it's very emotive, you know, as you said earlier, farming is, it's a business, but it's a way of life as well. And I think that's why it makes it even more challenging, knowing that it's there, it's looming in the background, but it's who talks about it first.
Matt
Are there any other challenges you want to talk about before we move on?
Ed
Shall we talk about the challenges for new entrants coming in? We found from National Young Farmers' research that the biggest challenge to new entrants trying to establish a business in the industry is access to land and access to finance. And often these 2 kind of come hand-in-hand because it takes such a huge investment to start up.
I mean, to start any business takes a big investment but in agriculture it's huge really. And you have to think long term. Access to long term tenancies for any new entrant can be extremely hard, finding finance if you don't have a lot of capital can be too. We recently attended a big launch day from Oxbury Bank, which is a brand new bank specifically for farmers, and they're launching a new scheme called Oxbury New Gen, where they're giving 100% loan to value to any new entrant with a solid, good business plan and helping them get professional advice for the first 3 years, which is great on access to finance.
But what struck me was they think what most people are going to take that up on is young people buying into an old farmer's business. So say an old farmer wants to start taking a back step but doesn't want to sell the farm, doesn't want to sell the business, rather than just getting a young worker in, perhaps a new entrant can buy a share in their business, then you've got a share farming agreement already there, which has been proven to be successful in some cases so far.
Cooperation and share farming hasn't necessarily been taken up very well in the agricultural industry, but they're very confident that it can be. I'm not saying I have any experience in it, but I'll just throw it out there.
Charlotte
Yeah, yeah. I mean, for me, there's 2 parts to it, isn't there, as a new entrant? There's the funding, but there's also gaining the experience and the knowledge as well. There's a lot you learn on the way, you know, there's a lot of things you think you know.
But actually when you're doing it for yourself and it's your money, you know, all of a sudden you're in the driving seat, but at the same time, that's kind of a, you know, a scary place to be at times, especially if you're partnering with big money, and me and my partner, we've completely funded everything ourselves, get deals where we can, box clever on things. Because we both work, we've invested in a squeeze crush, and a lot of people come and see our setup and they laugh because they're like, "I've got 400 cows, you've got a better setup than me!"
But for us it's got to be about safety. It's got to be about ease of doing things, being efficient. You know, we can't, at 2 in the afternoon on a Thursday, I go and mess around with the cattle because we're at work. So everything's got to be, it's got to work around our jobs. We need to be able to do that.
But I think, you know, for someone who wanted to get completely into agriculture, who didn't necessarily grow up on a farm, that is an even bigger challenge in itself because we sort of do say, yes, capital funding is the biggest issue, but actually getting that experience as well and being in a position where you can, you know, I know people who are, they own their own farms, they couldn't run a drinking competition in a brewery, I think that's what they say [laughing]. You know, I know people who are in that position and just because they've got a farm at home doesn't mean that they're a businessperson. You know, they've got to learn it and it doesn't just come to you overnight, it's, yeah, it takes time.
Matt
Yes, well if you come from completely outside, if I decided I wanted to be a farmer and I have no background in it whatsoever, I don't have those skills that I've picked up with my family working on the farm, I don't necessarily understand how those businesses work and I haven't picked that up, and I don't have the backing and the access, so there's some really interesting themes there you've picked up, which is a challenge. And your advice was, find opportunities for placement jobs, go to agricultural college, pretty good advice there, so thank you for that.
So moving on to a different topic, what do you think in terms of young farmers bringing a new approach to the industry and a new perspective in terms of use of tech, knowledge sharing, connecting together maybe through Young Farmers Clubs, maybe through other methods, what do you think young farmers stand to bring to the industry now and in the future?
Ed
I can say generally young people are going to be far more willing to change, they're going to adapt in whatever way we need to adapt. We're forward thinking because we've got a long future ahead of us, and we're going to make the changes that we need to make. Farming's always been quite guilty of not thinking enough about the customer.
We think about what we're growing, and then we hope that there's a market there for it at the end of it. Young farmers are, I think, going to be a lot more market oriented and willing to see new ideas and see new markets, adapt in the way we need to.
Charlie
But I think our ability to be able to do that is going to be heavily dependent on government support and government backing and the continued and improved investment in that innovation and technological advances. Yeah, the flexibility and the ideas are all going to be there, it's just going to be the financial ability to do it, take that risk.
Matt
Us [government] needing to match that energy and that enthusiasm, right? I don't know whether any of you have looked into opportunities such as our farm equipment and technology funds to buy technology? That's one of the things we'll be continuing to offer. We are funding research and development, but that's not a straightforward thing, that's not going to put equipment on your land, that's long term stuff, but we are trying to marketise new technologies that should have environmental productivity, all sorts of benefits. So I don't know if you're aware of or whether you've accessed any of those productivity funds?
Charlie
Definitely aware of them. We haven't accessed them mainly because what we're dealing with here is, do we need to spend that money? And often I might be outvoted on that because it's still, even with the grants on it, there's still some initial cost. You know, I would like to make those investments and see those improvements in productivity, but I think at the moment there is sort of an attitude of, if it ain't broke, don't fix it.
Charlotte
It's a good comment that actually, Charlie, you know, if it's not broken, don't fix it. And I think you've got 2 contrasting views, haven't you? You've got that, let's do things the way we're doing it because it's working. But actually, as margins get squeezed, as the volatility continues and as more pressures are impacted on the bottom line, then actually there's a lot of technology out there which, technology isn't necessarily always the answer, but there's a lot of technology that can lead to great efficiency improvements in businesses, there's obviously capital investment to start with, but if farmers can take advantage of grants and other schemes that are available, and there's a way in which they can look and forecast that benefit into their business, then it's all ways in which technology can make a big difference on farm.
It kind of links back to what we were talking about earlier, getting people into farming. There are lots of people out there who are very focused on the futures of careers in technology, and there are so many more advancements we can bring into agriculture to make it more efficient. And there's lots of practices that are done a very old fashioned that we could really improve by more investment into the sector from a technology standpoint. Probably some of the things we're thinking of seem quite futuristic, when you go round some farms and they're still doing things very traditionally, but I think certainly over the next few years, people will have to think about how they can improve and make use of technology to create more efficiency within the business.
Charlie
Even just things like utilising benchmarking tools and things like that to identify where you need to improve is something that just needs pushing more within the industry. Like, I've started benchmarking our business, but we could be doing it way better and there'll be so many out there still that aren't at all.
Matt
Can you explain what benchmarking is for people who might not be aware of it?
Charlie
Yeah, so benchmarking is utilising a tool. So I'm using the AHDB [Agriculture and Horticulture Development Board] one to put the figures in for your farm. It's not necessarily the monetary figures, it's more things like your losses, so whether that be livestock or grain, and what it costs, the passes it takes for you to grow a crop. So the pass is like, how many passes you're doing on the land with a machine to grow that crop and then comparing it against, it takes all of that information that you can put in and compares it against other farms across the UK that are also benchmarking.
Charlotte
Technology doesn't just mean a shiny new bit of kit, it can actually be something like benchmarking, it can be a tool, it can be a digital tool, it doesn't have to be a physical thing. There's a lot of tools out there that farmers can utilise on their farms to make things easier.
Charlie
Yeah, absolutely, and we're now using an app for our cattle records, and just like logging where they are on the farm and our medicine usage and the feed rations and things like that, then it's identifying our cost per head and it's picking up on what cows are taking a bit longer to get back in calf and the least productive, we're now logging things like daily live weight gain. It's just now starting to highlight those lower performers in the herd and focus more on those high performance genetics, especially on the sheep, like EID tags in the sheep are compulsory now, so there's no excuse of, oh well, you know, the ID tags are more expensive, so I don't want to invest in those because you have to have them. So you might as well utilise that to the best of your ability.
Ed
I'm in favour of all productivity grants. I haven't taken advantage of any of the options yet because for every one [of the options] involved, it would involve making a fairly radical change in the methods that we're doing at the minute and we haven't gone for that. So I'd be all in favour of expanding those productivity grants to more of the things like what Charlie's just been mentioning.
Matt
Obviously the main word is our environmental management grants. So introducing ongoing payments, building from Countryside Stewardship to reward farmers for delivering public goods, so environmental actions on the ground. Obviously CS has got a lot of quite mature offers you can access there. We've just launched SFI [Sustainable Farming Incentive], which has some soil standards within there and some other options, and that will be rolling out in increments over the next few years.
But where do you see the farms you are involved in, what do you see as the importance of being involved with these environmental schemes going forward? How central are these things to your business?
Ed
To my business, I see our arable crops as remaining as the most important aspect of our business. Our general income is going to go down whatever, and we think we need to focus on what we think we're pretty good at, which is growing food. We're currently in Mid Tier Stewardship where we use that to make the most of our least productive areas, which we love to because I am now seeing more birds on the farm than we used to, which is brilliant. We're making the most of our least productive soils and we're still growing food on our better soils.
Matt
So you're balancing food production. I think there's lots of options within the schemes to do that kind of thing, to fit that to your farm and I think those opportunities will grow as we move forward. I don't know if you, Charlie or Charlotte, have any views in terms of environmental actions.
Charlie
I think they are pivotal in our farm business going forward. We've done quite a lot in the past. We're in HLS and we've been in a Higher Level Stewardship for the last 20 years. I do think they're really important because they're going to have to make up for the loss of Basic Payments [BPS], so yeah, they are important.
Charlotte
I was just going to say that the BPS payments and the Countryside Stewardship payments are serving a different purpose and that is, that's the crux of it. It's not really there to fill the gap of BPS because it won't, and I think it attracts different farming businesses for different reasons. So, as you said, where there's perhaps less productive land, rather than completely taking it out of production for a long term basis, it might be that you utilise the stewardship schemes. They are the start of something, and they will build and there'll be new schemes in the future, new opportunities.
So I think it may be a different way for people to think about how they utilise some of their under-performing land. But at the same time, there are obviously places, not far from me where I am, there's obviously some very highly productive grade 1 silt that will grow every crop you can imagine and wheat break crops. So for them, you know, going into countryside schemes is probably not going to be necessarily the direction because they've got very productive land, but I think there are opportunities for those that want to explore them. It's going to be, how is this going to look in 5 years time? How is this going to look in 10 years time?
Matt
I think you're absolutely right. You need to be able to have that range of options that you can opt into, and fit to your farm in terms of how it works now, and what you might want to move it towards. You need to be able to have that full range there and full range of offers. Every farm is different and I think, from government, make sure that we're not using up all that productive land because we do need to produce food and food is the primary purpose of farming and always should be, but I think it's finding those opportunities going forward.
So looking forward, what do you think government should do in terms of making farming a real success for the next generation of farmers? Any tips for us as you depart.
Charlie
More of a focus on the importance of self-sufficient food production, that education from schools upwards in teaching kids and people about proper nutrition and how to cook their food, where it comes from, the sustainability and environmental impact aspect behind it, and improving that understanding again, because that has been so far lost and with that understanding will come then that the increased value of the industry. The key to it all is education.
Charlotte
Education is absolutely at the forefront, not only for getting people into agriculture, but demonstrating to the general public the support of farming as a whole. So this is globally, but also more specifically about UK farming as well and food production. I also think we need to highlight just how exciting it is to be part of agriculture.
The industry is booming, it's thriving. It makes me smile every day when I think about, I wake up and I work in agriculture, and I work with some fantastic people. They're feeding the nation. They are working the land, they are custodians of the soil, which is absolutely amazing.
What we need to remind ourselves is, farms are some of the longest standing businesses going, 4, 5, 6 generations long. Let's not forget that farmers have been doing this for hundreds of years under the same families. So it really is a fantastic industry to be part of and I think we need to keep championing that and keeping that positive energy. And we need the government to also keep highlighting the importance of UK agriculture.
Ed
To add to Charlotte's point, I think it was the government that did a report on food security, and they came to the conclusion that we are only ever 4 meals away from anarchy, which is constantly worth remembering for the government and this whole population that throughout history political unrest generally occurs when people get hungry. So I'd stress that and what Charlie said about nutrition and the general population, and we're producing food to keep people fed, but hopefully to try and keep people healthy. We are a nation full of young farmers, mostly YFC [Young Farmers' Clubs] members, but also just young farmers across the industry, and we're excited for the future and we want to take on this challenge.
Matt
Keep keeping us fed, I think is my line that I'll end with. Thank you so much to Charlotte, Charlie and Ed for coming to speak to us today. It's just been fantastic talking to you and hearing all about your experiences as a young farmer.
Thank you so much for listening. If you'd like to subscribe to this podcast, you can get it wherever you normally get your podcasts from, and if you want to follow the Future Farming and Countryside Programme in a bit more detail, you can follow us on our blog, that's defrafarming.blog.gov.uk.